RoHS Compliance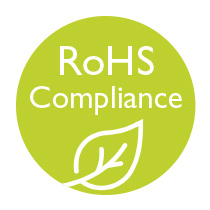 RoHS, which originated in the European Union (EU), stands for Restriction of Hazardous Substances, also known as Directive 2002/95/EC. The directive restricts the use of specific hazardous materials found in electrical and electronic components (EEE)." All EEE products in the EU market must be RoHS compliant as of July 1, 2006. RoHS restricts identified hazardous materials from polluting the environment, particularly landfills that may contain EEE waste. The original list included six chemicals, with subsequent amendments increasing the list to ten chemicals.
The current version is RoHS 3 EU directive 2015/863/EU and ResinLab's compliance department is constantly monitoring EU activities to ensure we are current on all RoHS compliance changes. ResinLab keeps concise records of all chemicals that we handle and have clearly identified the RoHS status of each one. Upon request, we can quickly provide certification of RoHS compliance for any ResinLab formula. ResinLab currently has no formulas that contain any of the restricted hazardous chemicals.
If you are exporting an electrical or electronic product to the EU or to other countries that are adopting these EU directives, using ResinLab products in your manufacturing process ensures there will be no issues with RoHS compliance.
RoHS compliant products cannot contain chemicals exceeding these levels:
Lead (Pb): 0.1%
Mercury (Hg): 0.1%
Cadmium (Cd): 0.01%
Hexavalent Chromium (Cr6+): 0.1%
Polybrominated Biphenyls (PBB): 0.1%
Polybrominated Diphenyl Ethers (PBDE): 0.1%
Bis(2-Ethylhexyl) Phthalate (DEHP): 0.1%
Benzyl Butyl Phthalate (DBP): 0.1%
Dibutyl Phthalate (DBP): 0.1%
Diisobutyl Phthalate (DIBP): 0.1%
Contact us for more information or to request a RoHS compliant product.